With digital tools and smart didactics, higher education can be made more innovative, fairer and more student-centred. That is why the University:Future Festival, as a flagship event on digitalisation in teaching and learning, offers orientation, networking and inspiration – community-oriented and open to all. For the academic education of tomorrow.
The University:Future Festival continues to develop. In 2022, it will test a spin-off: With Let's Talk:Campus, we will transfer the philosophy of the University:Future Festival to a thematically driven, one-day event on 20 October 2022.
Let's Talk:Campus is a one-day hybrid event on the future of campus life. It focuses on issues of student participation and sustainability. The event is explicitly designed as a political event and will end with a parliamentary evening. The day's programme of the community-oriented event is generated by a call and has a clear focus on student issues. The audience should also reflect student participation. This is immediately followed by the parliamentary evening, where we bring politicians together with student concerns.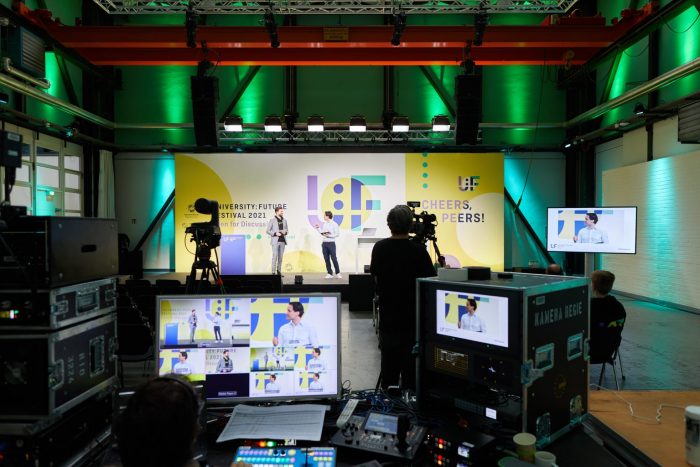 Let's Talk:Campus will prepare the ground for a big three-day University:Future Festival from 26-28 April 2023. Both events are "digital first". Do you want to stay informed? Then subscribe to the newsletter of the Hochschulforum Digitalisierung.

University:Future Festival and Let's Talk:Campus are organised by Hochschulforum Digitalisierung and Stiftung Innovation in der Hochschullehre.