Creative:Call 2023 – Completed!
The deadline for the Creative:Call was February 28. Currently, the jury is in the selection process.
Creative Space: The virtual exhibition space of the University:Future Festival
In addition to the digital stage program of the University:Future Festival 2023, we would also like to create, together with artists and creatives, a virtual art and discussion space for exploring the futures of digital higher education: the Creative:Space. The goal of the Creative:Space is to stimulate thought for digital solutions in everyday university life and to address the themes of this year's festival in a creative change of perspective.
Themes of the Creative:Call 2023
The thematic tracks of the University:Future Festival are particularly in focus. These include topics such as technology, didactics, strategy development, competencies and architectures. The Creative:Space thus becomes both a digital exhibition space and a discussion podium. In short panels, the artists will present their artworks to the festival participants. This year's festival motto "Heads Up!" serves as a leitmotif for the submissions:
Heads Up! – Watch out, we've got something coming! A "Heads Up" is an advance notice or a warning. What will be important in the coming years? Which topics and developments do we need to keep an eye on?
Heads Up! – Cheer up, you'll be fine! "Heads Up" is also a positive exclamation. Rising costs and demands are creating uncertainty in higher education; even the pandemic is not over yet. The festival reflects on this situation and wants to look constructively to the future.
Students of art colleges as well as artists, creatives and designers can submit their projects via the Creative:Call and present them in the digital Creative:Space of the University:Future Festival. Individuals as well as courses and collectives are invited to participate in the call. Seminar projects, degree theses and projects created independently of the university can be submitted.
In terms of content, the projects should deal with the new digital university reality, the content-related topics of the festival (e.g.: architectures or technology) or the motto "Heads Up!" explained above. They can be presented in any digitally conceivable and realizable form, from asynchronously retrievable installations and audiovisual formats to live performances. The only requirement is that they must be presentable in digital space – the Creative:Space is a purely virtual exhibition space.
In the Creative:Space, art projects will be accessible over the time frame of the University:Future Festival.
Contact Persons Creative:Call 2023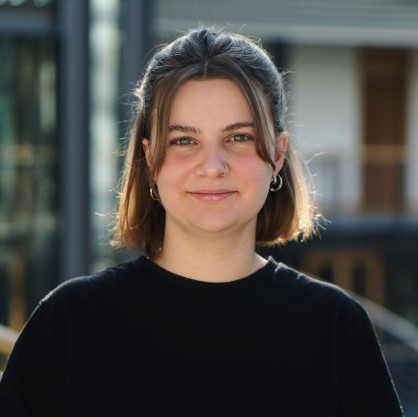 Lea Heinrich
heinrich@hochschulforum.org
Lavinia Hoesch
hoesch@hochschulforum.org
+49 (0) 1737675093